You could figure it out alone, but it doesn't mean you have to.
A lot of single women dream of becoming a mother, but aren't sure they are ready to give up on the dream of partnership to become a mother on their own.
Does this sound familiar?
Are you panicking because your biological clock is ticking but you haven't found the right partner yet?
​Are you wondering whether to give up on dating for a while ​to become a mother on your own?
​Is the idea of using a sperm donor freaking you out?
Are looking for support and guidance as you research options and work through your concerns about becoming a single mom?
Are you looking for a thoughtful, supportive group of women who get it to develop long-terms bonds for years to come?
I've been there. Taking the leap to become a single mom by choice can be scary and confusing.
Motherhood Reimagined provides coaching and community to guide you through every stage, so you can stop spinning your wheels and move forward on your journey to motherhood with clarity. 
Process your grief and concerns
Surround yourself with women who understand
Thinkers Intensive
$275 (paid in full)
or 3 payments of $97
A chance to discuss and process the common concerns facing most women who are contemplating single motherhood. Find other women grappling with the same concerns and emerge feeling educated about the process and concerns. Feel heard, gather resources and perspectives that make you realize you are not alone. 

Fridays 9:30am PST (see list of dates)

90 minute Zoom group meetings

Private online classroom for weekly connection

Discounted Private Session add ons

6 month membership in the SMC Community Forum w/ Guest Experts and Panel Discussions

Perfect for women who are contemplating single motherhood or just starting out but want to process parts of the choice
In this course, we will dive deep into the question of whether or not to have a baby on your own to get clear about what you want and how to get there.⁠
⁠
Even if you are pretty certain that you want to take the leap to single motherhood, this course will give you a forum to work through your grief, and concerns, as well as helping you formulate a plan and next steps.⁠
⁠
Gain clarity about what you truly want
We will work with recurring doubt, regrets, grief over not finding a partner. How to stabilize in your clarity.
2. Addressing Common Concerns
Dive into the details of being a single mom by choice
Financial–can I afford it?⁠
Can I handle it?⁠
Is it fair to my child?⁠
Concerns about donor conception. ⁠
Dealing with opinions of others–unsupportive family or others⁠
What does having a baby alone mean for future dating and partnerships?⁠
3. Options and Action Plans
Understand the process and options.
What should you be thinking about as you prepare to take the leap?⁠
What are your options for getting pregnant?⁠
How to pick a sperm bank and sperm donor?⁠
How can you start improving your fertility?⁠
Where inspiration meets practical guidance
There's no doubt, we are an awesome group of women who haven't let convention get in our way. Together we can do great things. I'll be here to guide us along the way to keep the conversations productive and kind.
✔️
Creating communities has always been my passion. It's what I naturally do. Making families come together where love and support is always present.
✔️
I've curated all the best experts and resources so you don't have to. Thus making things easier for you and allowing resources more accessible for you
✔️
I combine my training as a life coach, child birth educator, fertility doula and lawyer to inspire and guide intelligent, thoughtful conversations.
My groups are an invitation to: 
Create a powerful network of women who understand what you are going through.
Learn from the collective wisdom of the group.
Think outside the box for ways to make single motherhood feel doable and even easy.
Process emotional concerns about not having a partner so that you can move forward feeling confident and empowered.  
Rewrite your narrative around motherhood and partnership so you can put down the fairytale and embrace new options with an open heart and excitement for what's possible.
Make a plan for how to get pregnant so that you're not swimming in overwhelm about the process.
​Understand logistics ​such as sperm donor selection, fertility tests, insemination methods so you save time and reduce anxiety.
Thinkers Intensive
$275 for the course
Weekly 90 minute Zoom group meetings

Private online classroom for weekly connection

Discounted private coaching session add-ons

6 Month membership in the SMC Community Forum w/ Guest Experts and Monthly Meetups

Perfect for women who are contemplating single motherhood or just starting out but want to process parts of the choice
Course Dates
90 minute Zoom Meetings Friday 9:30am PST
Plus monthly All Community MeetUps
KIND WORDS FROM MY LOVELY CLIENTS
"Before I joined the Thinkers group I had many fears and unanswered questions. I was frustrated since I've been seriously contemplating what to do with my frozen eggs for over a year. Having Sarah's expertise along with a place to process my emotions and concerns in a community of other women gave me momentum. In just one month of the group, I have decided to move forward with trying. I wished I had joined sooner!! It would have saved me a year of trying to figure it out on my own!"
"Before I started working with Sarah, I was really afraid to give up on partnership and parenting happening together. I knew it would take work to get to a place I wanted to go. Now, I'm pregnant and I have far less fear. This decision feels so right and my life feels full of love and support. Having Sarah by my side while I explored the path to single parenthood was invaluable. "

"After feeling stuck for a year, Sarah helped me manage my emotions, uncertainty and doubt and expertly guided me to a strong place where I finally felt ready to take the next steps to becoming an SMC."
HI!  I'M SARAH KOWALSKI.
Single Mother by Choice, Life Coach, author and founder of Motherhood Reimagined.™
I'm Sarah Kowalski, Single Mom by Choice, Fertility Doula, Life Coach and author. I coach women who are struggling to conceive a child when it's not taking shape as planned -- either because of the lack of a partner or fertility issues.
My own arduous path to motherhood, inspired me to combine my expertise as a life coach, lawyer and patient's rights advocate with my passion for teaching mind body practices such as Feldenkrais and Qigong. Through this unique blend of training and experience, I help women quiet the voice of doubt and redefine what it means to be a mother so they can embrace their unique path to motherhood.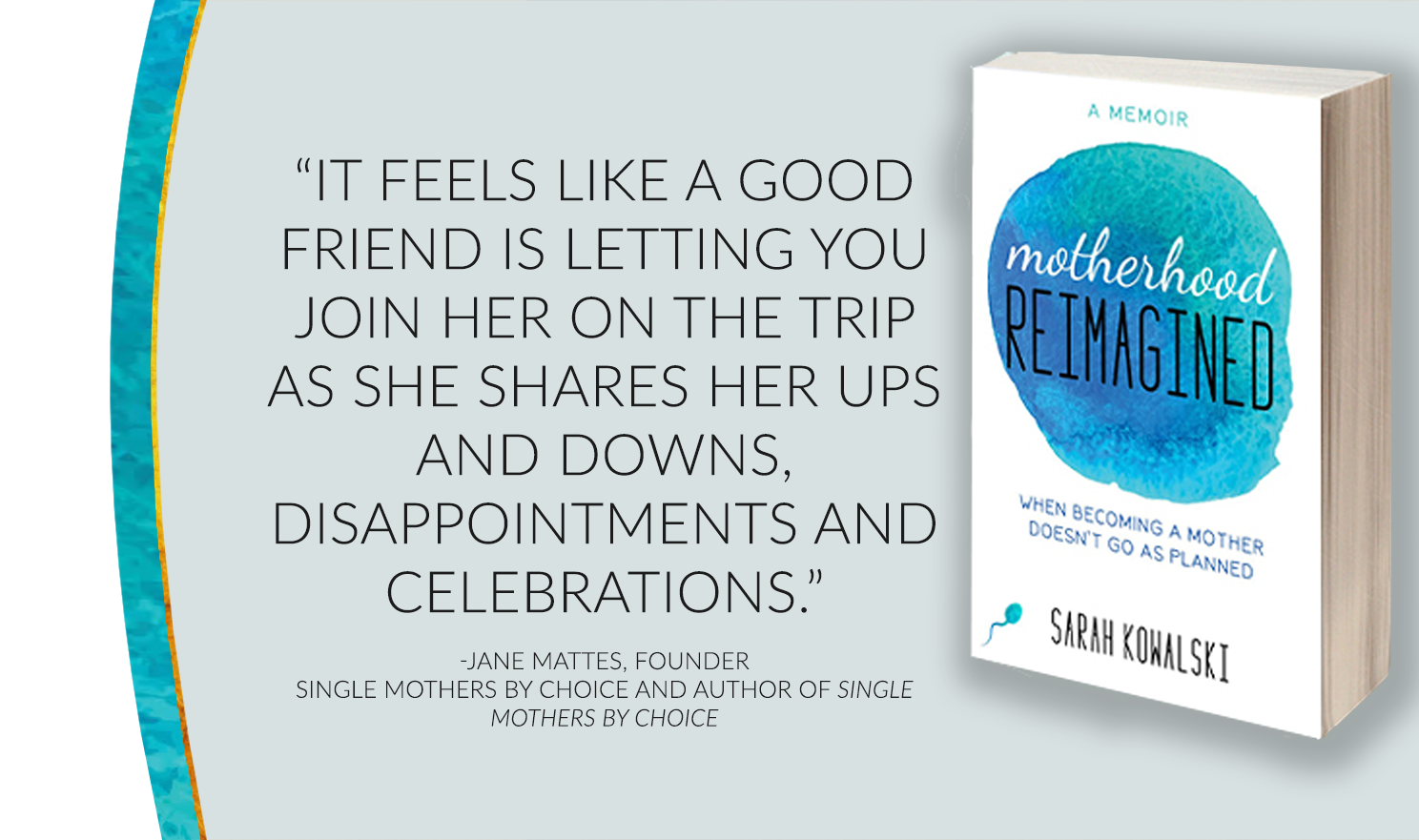 A STORY OF PERSONAL TRIUMPH & UNCONDITIONAL LOVE
Motherhood Reimagined reveals what happens when we release what's expected and embrace what's possible.
This honest and informative memoir examines the issues facing both single moms by choice and any woman facing fertility issues and third party reproduction.
Motherhood Reimagined answers many questions such as: Why would someone decide to have a baby alone? How does one come to terms with not having a genetic link to her child? How can infertility be a means for personal growth and spiritual awakening?
You deserve to feel clear, confident and supported as you navigate your single mom by choice journey.
Don't let indecision and overwhelm prevent you from becoming the badass mama you're meant to be.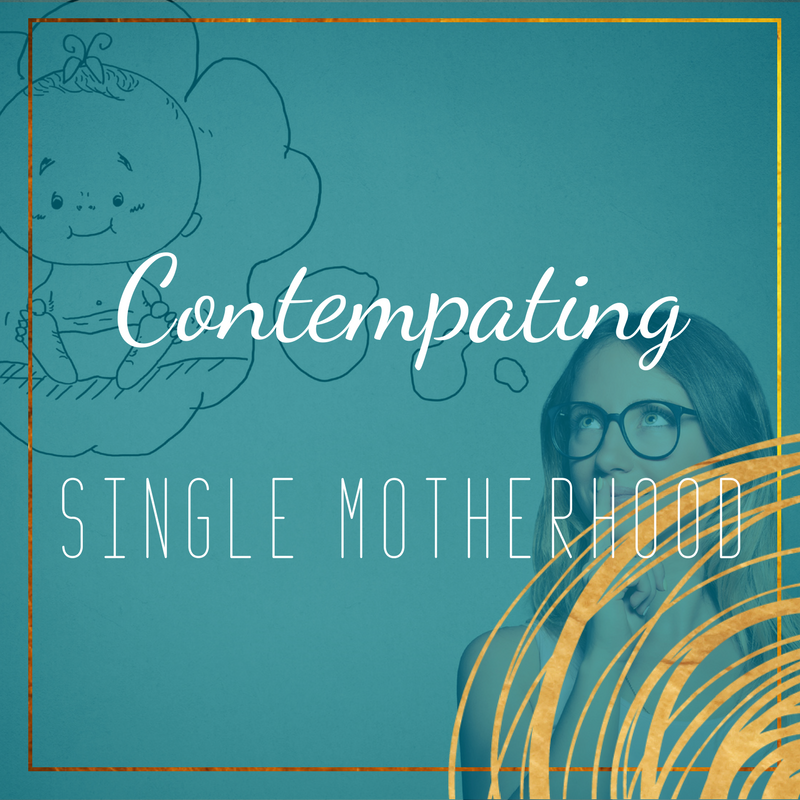 Taking The Leap To Single Motherhood?
Is time was running out to have a baby but you're still single?
Thinking about doing it alone?
Or maybe you've made the choice to have a baby alone but are finding the process overwhelming?
Get curated content for this stage of your journey.
I would love to hear from you.
(415) 305-4692 • sarah@motherhoodreimagined.com