SMC Resources: Book, Podcast, Blog, Articles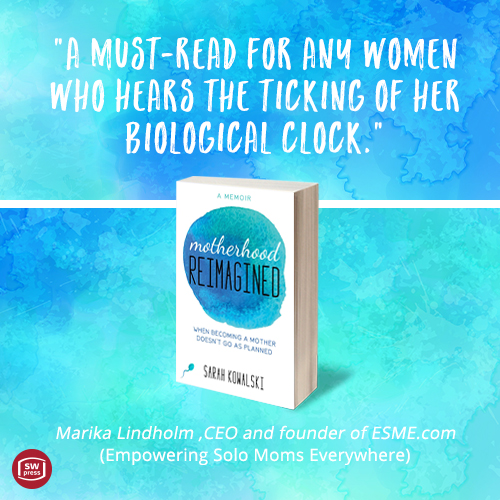 Motherhood Reimagined: When Becoming A Mother Doesn't Go As Planned
Available everywhere books are sold Buy Now 
At the age of thirty-nine, Sarah Kowalski heard her biological clock ticking, loudly. A single woman harboring a deep ambivalence about motherhood, Kowalski needed to decide: Did she want a baby? More importantly, with no partner in sight, did she want to have a baby alone? Once she revised her idea of motherhood—from an experience she would share with a partner to a journey she would embark upon alone—the answer came up a resounding Yes. Kowalski chose to conceive using a sperm donor, but her plan stopped short when a doctor declared her infertile. How far would she go to become a mother? Kowalski catapulted herself into a diligent regimen of herbs, Qigong, meditation, acupuncture and more, in a quest to improve her fertility Along the way, she delved into spiritual healing practices, facing down demons of self-doubt and self-hatred, and once again revising her vision of motherhood. In the end, to become a mother, Kowalski did everything she said she would never do. And yet, she wouldn't change a thing.
A story of personal triumph and unconditional love, Motherhood Reimagined reveals what happens when we release what's expected and embrace what's possible.
Sarah's honest and informative memoir examines the issues facing both single moms by choice and any woman facing fertility issues and third party reproduction. She offers a personal narrative that speaks for a generation of women who, like the author, thought she had time to have a baby well into her forties and a growing number of women who will not let the lack of a partner stand in the way of having a child. Sarah takes us on her journey in which she examines her choices and surrenders to a completely different vision of motherhood than she had ever imagined, showing us how love prevails.
Her book answers many questions such as: Why would someone decide to have a baby alone? How does one come to terms with not having a genetic link to her child? How can infertility be a means for personal growth and spiritual awakening?
The Motherhood Reimagined Podcast
Coping with Loneliness as a Single Mom by Choice: Your Guide to Connection and Emotional Well-Being Becoming a single mom by choice is a compelling path, rich in love, joy, and an indescribable bond with your child but many women feel loneliness as a single mom by choice. On the one hand, it's an experience…
Read More
Get The Support You Deserve
Join a community of like minded women for discussions about single motherhood, fertility, egg donation, vacation IVF.
Our group is closed & private so only people in the group can see your posts.
I would love to hear from you.
(415) 305-4692 • sarah@motherhoodreimagined.com