Scattered Seeds: In Search of Family and Identity in the Sperm Donor Generation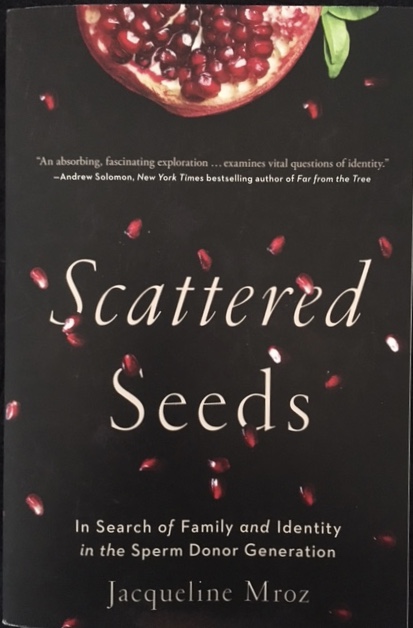 Your heart might stop a few times–then be warmed by the sweet connections.  One things for sure, you will be fascinated and better educated after reading Scattered Seeds: In Search of Family and Identity in the Sperm Donor Generation. Author, Jacqueline Mroz has done a wonderful job highlighting the issues with the lack of regulation in the sperm donor industry. It's a must read for anyone who is contemplating the use of a sperm donor and anyone parents of donor conceived children. Jacqueline Mroz has done a wonderful job highlighting the issues with the lack of regulation in the sperm donor industry. It's a must read for anyone who is contemplating the use of a sperm donor and anyone parents of donor… Click To Tweet
As many of you may know sperm banks in the US are completely unregulated. As a result, there are no family size limits, little uniformity about required medical or genetic tests, or policies about anonymous donors. Because most sperm banks are for profit, their policies are not catered towards what's best for donors or donor offspring.
Mroz, like Wendy Kramer, the founder of the Donor Sibling Registry, convincingly makes the case for increased regulation with stomach-turning stories of huge donor offspring groups, donor's who lied about their medical backgrounds. She argues that there should be strict family limits, an end to anonymous donation, limits on how many times a sperm donor can donate, and more extensive medical and genetic testing.
It's a fascinating book that includes a history of sperm clinics and artificial insemination, stories of chance meetings of half-siblings, interviews with donors about their desire to meet their children. It includes heartwarming stories of the many donors and offspring, and half-siblings who have cultivated relationships. Their relationships are testing the concept of family and forcing us to rethink what makes someone family.
The book is a must read for single moms by choice. It will help you better understand the quagmires of the sperm industry, give ideas about how to talk to your children and navigate issues of identity and family.
If you are in the process of picking out your sperm bank and need some help, make sure to get my FREE guide to sperm banks. Complete with an explanation of important policies, a summary of policies for 7 US sperm banks, quick comparison guide and worksheets to help you prioritize your desires. Click picture below to download yours now.
Join Plan C Mama Newsletter
Get my newsletter, discounts and announcements relevant to any stage of the single mom by choice journey